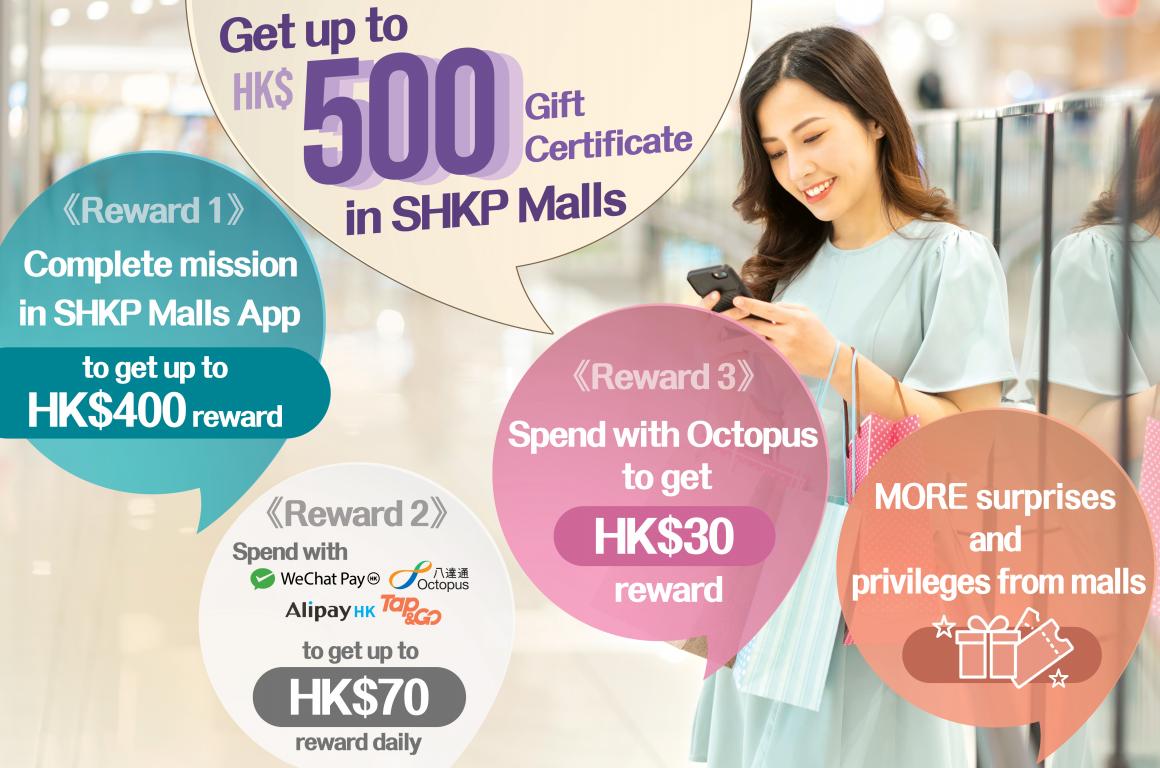 With the second instalment of consumption vouchers disbursed on October 1, The Point by SHKP Integrated Loyalty Program also offers its members up to HK$400 e-Gift Certificate.
Complete the limited-time shopping missions to get designated Gift Certificates worth up to HK$500
Apart from receiving HK$100 rewards from More Rewards Double Joy and Spending Rewards with Octopus promotion upon designated spending in 22 SHKP malls, members who successfully complete the limited-time shopping missions under the SHKP Malls App using their consumption vouchers through WeChat Pay HK, Octopus, AlipayHK, or Tap & Go in 23 designated SHKP malls, can earn up to 100,000 points for redeeming e-Gift Certificate worth up to HK$400 or other privileged rewards!
Mission
Cumulative Spending
Bonus Points
1
HK$500
2,500
2
HK$2,000
Extra 12,500
3
HK$3,000
Extra 25,000
4
HK$5,000
Extra 60,000
Total
100,000 (eligible to redeem HK$400 SHKP Mall e-Gift Certificate)
More surprises from malls with up to 110 rebate!
Receipts of Shopping Missions can also be used to participate in other mall rewards. Some malls offer a 110% rebate on spending over HK$2,000 with a HK$2,200 e-Gift Certificate or vouchers giving away. For more details, please click here or visit the Customer Care Centre of participating malls.